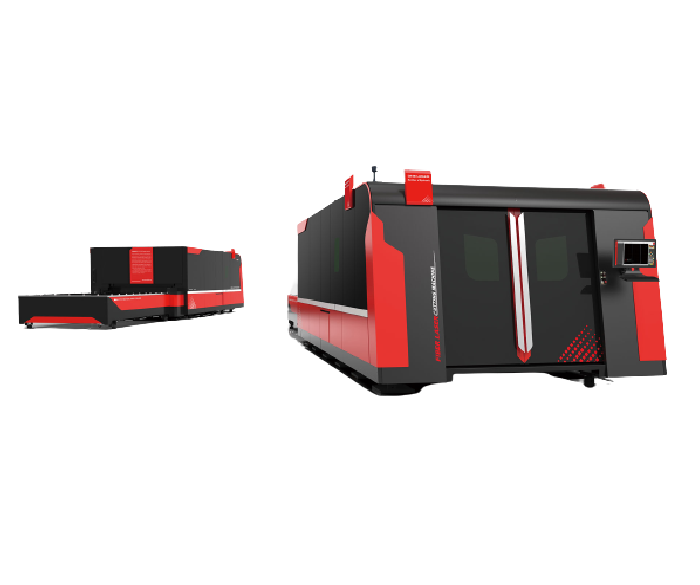 D-WIN
D-WIN series high power fiber laser cutting machine is characterized as super cost effectiveness and flexible in terms of metal cutting solutions, doing extremely well in cutting metal plates at medium thickness.
Laser Power: ≤ 6000W
◆ European craft standard machine tool
D-WIN series machine tools originates Bystronic technical guidance design, manufactured strictly in accordance with European standard machine tool technology standards. The professional technical team of Bystronic headquarters test and experiment the equipment personally with higher stability, better cutting quality and faster cutting speed.
◆ Imported high-performance components
Axis X/Y are equipped with racks and pinions Güdel from Swiss and Herion from Germany, reducers Neugart from Germany, servo motors Schneider from France to further improve cutting performance by implementing high efficiency to the transmission system, high accuracy in motion control.
◆ Optical System-Cutting Head
The core optical patent has been carefully developed and designed, and the technology has been guided by Swiss Bystronic Group.The series of optical lens group will directly affect the laser spot quality, enhance the available laser beam energy, and optimize beam mode and beam quality, further extending the cutting performance and stability of the cutting machine.
◆ Dust suction design: separated funnels
Inner-located suction unit adopted to achieves powerful suctioning capacity, extracts dust efficiently and reduces the possibility of direct thermal deformation of machine structure
◆ Double side door with sensor
The side door to access the rear part of the cutting sheet and correct the cutting parts during the operation.
The side door also used by detection, maintenance and inspection.
◆ High precision constant temperature and humidity control system
temperature and humidity control system, which has refrigeration function and normal temperature maintenance function, and prevents atomization effect and focus shifting, ensures the stable production of the machine, effectively guarantees the efficient and stable operation of the laser, and prolongs the service life of the laser generator.
| | |
| --- | --- |
| Model |   |
| Laser Source | Raycus fiber laser sources(optional) |
| Laser Power | 1000W 1500W 2000W 3000W 4000W 6000W |
| Working Stroke | 1500x3000/1500x4000/2000x4000/1500x6000/2000x6000mm( actual size shall be prevail) |
| Max. Cutting Speed | Depending on metal type and thickness |
| Power Supply | 380V/50Hz/60Hz/60A |
| Footprint Size | 9000x5000mm as per working stroke of 1500x3000mm |